On November 26, 2016 By Cameron Turnbull
While being raised on a family farm and working in the agriculture industry I knew that crop insurance existed, but I didn't know anything about it or how it worked. My understanding of crop insurance was that if something damaged the crops so bad that they couldn't be harvested then my Dad would be paid the going market price for the crop for all of the damages. It wasn't until I started working in the crop insurance business that I actually grasped what it actually was.
In the summer of 2016 I started working for Rain and Hail Crop Insurance as an intern. I got the job through a golf buddy that also works for the company as a Regional Manager. At the time I didn't really have any passion for the business and it was just another job to pay the bills. It wasn't until I started working for Rain and Hail that I considered that I may want to pursue a career in crop insurance.
So what is crop insurance?
Crop insurance can be purchased by agricultural producers, such as farmers, to protect themselves against crop loss from damaging weather or loss of revenue due to declining prices of agricultural commodities. In 2014 the average insurance premium cost for 85% coverage was $24.41 per acre.  It is designed to be a safety net or a security blanket to provide some cushion for the insured. It is not designed to pay for seed costs or input costs such as fertilizers. While working in the industry you will meet some clients that don't understand that it doesn't cover everything. While they will receive a payment, many times that payment isn't what they were expecting. Depending on what kind of coverage the insured has, they may get a big payment or no payment at all if the damage doesn't exceed a deductible for example. There are policy options that cover virtually every type of loss. While those options are in place, it is up to the farmer to follow the proper steps to assure that their claim gets covered. According to Rain and Hail's 2015 data, over $450 million was paid out to farmers in Illinois. Most, if not all farmers have replant coverage on their crops. Along with replants common coverage options include: wind damage, hail damage, prevent plant coverage, revenue protection, and even vandalism coverage.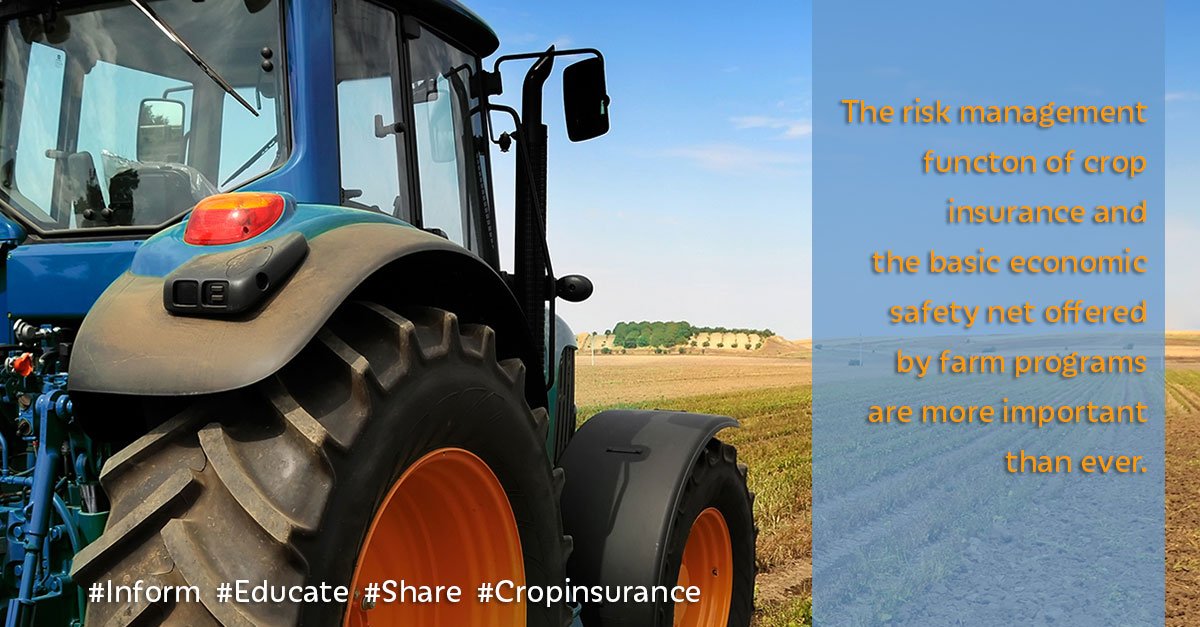 (Photo credit: National Crop Insurance Services)
Why is crop insurance important?
Crop insurance has been referred to as the most important risk management tool in agriculture. It provides a comforting feeling for a producer that if a big hail storm comes through and ruins his crop then he will get a percentage of compensation and it isn't a total loss. For producers without this protection Mother Nature can come along and destroy their livelihood on one stormy night. One storm causing a total farm loss could drive a farmer out of business.
Because Mother Nature is so unpredictable it is important that producers are covered by crop insurance now more than ever in this competitive industry.
Bio
Hi, my name is Cameron Turnbull and I am a Senior at Western Illinois University majoring in Agricultural Business. I grew up on a family farm in the small town of Sparland, Illinois. I am currently employed with Rain and Hail Crop Insurance as a Crop Adjuster and I am pursuing a full time position with the company. If you are interested in pursuing a career in crop insurance you can check out Rain and Hail's website at http://www.rainhail.com. Follow me on Twitter @CamTurnbull95