The 2015 growing season was a strange one to say the least here in central Illinois. I have talked to many farmers who have said they have never seen so many extremes in a single growing season. It started with a nearly perfect spring to plant and get the crop off to a desirable start. During planting, the soils were warm and not saturated with water, but held adequate moisture. There were multiple days in a row without a significant rainfall allowing farmers to get all planting done with optimal conditions, and within the window of time that allows for maximum yields at harvest. It is easy to say that in our area of the state, we had a perfect planting season. Even in the next 4-6 weeks after planting was complete, we had timely rains, but not beating rains, or multiple inch rainfalls that could compromise yields at harvest. It was always just the perfect amount of rain.
As we all know, when June came the weather took a major change for the worse. We continually got pounded with multiple inch rainfall after multiple inch rainfall. It seemed as if the rain would never stop coming down.  Flat ground had many drown out areas, and visual signs of crops suffering could be seen everywhere. However, once the rain shut off late in the summer, it stayed off. Many farmers feared this would happen and due to the unbelievable amounts of rain early on, the crops lacked sufficient roots to pull out water deep in the soil profile. Consequently, the crops began dying prematurely and stalk quality in corn degraded very quickly.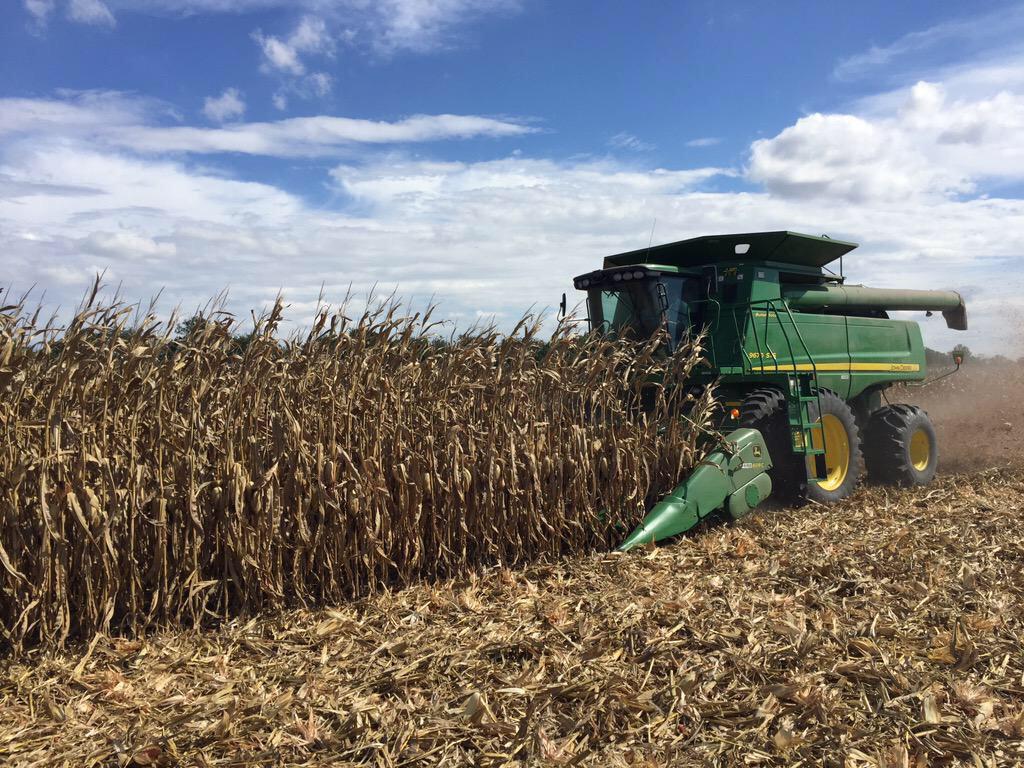 As farmers in central Illinois began harvest, they quickly realized the moisture of the corn was much drier than they could have ever imagined for early September. Not only was the grain dryer than expected, the stalks of the corn were so dead and spindly that even the slightest wind storm could make any farmers nightmare come true. As October hit much of the corn was in the mid to lower teens in terms of moisture content. This was great for farmers because it really cut down on their drying bills, and also cut down on their trucking bills because they were hauling much less water to town. It was definitely a rough year for elevators as they did not make very much money drying, and gas companies didn't sell much gas. Soybean moisture content became very low very quickly also. I heard of moisture all the way down to nine percent. We just never did get a rain to bring the moisture back up to the optimal range. Throughout the entire harvest season, conditions were very dry. There were many field fires, and the dust was terrible. I think there were about 45 days that farmers in my area could harvest, with no restrictions due to the absence of rain. It was definitely an easy going, no hold up kind of a harvest season, which ended for most farmers around the third week of October. This has given farmers  a lot of time to do other field work, and the weather has remained optimal for that. Now that the combines are in the shed until next year, as we look back at this past growing season full of challenges and odd weather it seems yields were much better than predicted. For many farmers it wasn't their best crop ever by any means, but it was not as bad as originally thought.
A little bit about myself- My name is Brett Walker, and I am a senior at WIU. My major is agricultural science, with a minor in Agronomy. I grew up on my family's farm which is located about 25 miles northeast of Peoria. We raise corn and soybeans, and we also have about 120 cows in our cow/calf operation along with a 200 head cattle finishing confinement. A hobby of mine is pulling four wheel drive trucks at county fair truck/tractor pulls.